European Commission started on 16 January 2020 a public consultation on the draft regulation implementing the list of co-formulants that shall not be used in plant protection products or adjuvants (Annex III of Regulation (EC) No. 1107/2009). The consultation will end on 13 February 2020.
Updated versions of the draft regulation and its annex (including the list of banned co-formulants) can be downloaded via the public consultation website or via the download links below.
The new version of the regulation now specify that the grace period that can be granted by Member States for PPP or adjuvants containing a co-formulant listed in Annex III to Regulation (EC) No 1107/2009 shall expire for the sale and distribution at the latest 3 months and for the disposal, storage and use additional 9 months after the amendment or withdrawal of the authorisations.
In the new version of the annex, the following modifications are found for the entries Aluminium silicate (kaolin), Quartz sand and Silicium dioxide (in yellow) in comparison to the version of July 2019: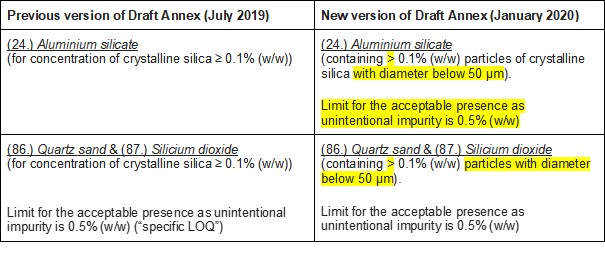 To download: 
New Draft Commission Regulation modifying Annex III of Regulation (EC) 1107/2009 and its Annex
See also our previous articles: 
EUROPE-COM : draft list of co-formulants banned in PPP
Lynxee consulting's team is at your disposal to answer your questions.
Contact us! http://lynxee.consulting/en/contact/